喷司他丁,喷司他丁冻干粉注射剂(Nipent 10mg powder solution infusion)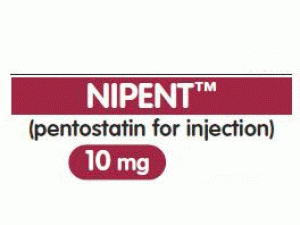 药店国别:无
产地国家:英国
处方药:是
所属类别: 10毫克/瓶
包装规格: 10毫克/瓶
计价单位:瓶
生产厂家中文参考译名:无
生产厂家英文名:Hospira UK Ltd
原产地英文商品名:Nipent powder solution infusion 10mg/Via
原产地英文药品名:Pentostatin
中文参考商品译名:NIPENT冻干粉注射剂 10毫克/瓶
中文参考药品译名:喷司他丁
曾用名:尼喷提、脱氧肋间型霉素,脱氧考福霉素,2-脱氧咖啡
简介
英文药名: Nipent(Pentostatin for Injection)
中文药名: 喷司他丁冻干粉注射剂
生产厂家:Hospira UK Ltd
药品说明
中文别名:脱氧肋间型霉素,脱氧考福霉素,2-脱氧咖啡霉素,喷妥司汀
外文名:Pentostatin,Nipent,Deoxyco-formycin,2-Deoxycoformycin.
外文缩写:2'-dcF,DCF。
药理作用:
本品是从链霉素菌中分离得的抗生素,从结构上是次黄嘌呤增加一个碳成7元环与咪唑骈合。DCF是嘌呤衍生物强力的腺苷脱氨酶(ADA)的抑制剂,是一种较新的抗代谢类药物。急性淋巴细胞白血病与髓细胞性白血病患者的淋巴母细胞和髓母细胞中ADA的活性增高。
本品在体外与ADA有较高的亲和力,并能抑制动物和人慢性髓细胞白血病患者髓细胞中此酶的活性,随着ADA的活性被抑制,细胞的脱氧腺苷三磷酸(dATP)水平增高,dATP通过抑制核糖核苷酸还原酶而阻断DNA的生物合成,抑制细胞繁殖,淋巴样细胞最为敏感。
还能抑制RNA合成和增强有对DNA的损伤。本品且能增强其他受腺苷脱氨酶代谢的抗肿瘤药物的作用,同时本品还具有免疫抑制作用。
体内过程:
静脉注射本品0.25-1mg/kg,约14小时后血药平均浓度为2-6umol/L;本品能通过血脑屏障,静脉注射后2~4小时脑脊液中药物浓度为血药浓度的10%~12%。其血浆消除半衰期为3-9.6小时,静脉注射本品5-30mg/m2后,第1日尿中可回收剂量的50%~82%。
临床应用:
对急性及慢性淋巴细胞白血病、非霍奇金淋巴瘤、皮肤T细胞淋巴瘤及毛细胞白血病有效;对抗干扰素的病人使用本品仍非常有效。
(1)行细胞白血病患者无论有无脾切除或以往是否接受a-干扰素治疗,使用本品后完全缓解率(CR)达33%~92%。几首所有患者经本品治疗2个疗程后,可见外周血细胞计数改善,最明显的改善平均在治疗4个月左右。所有CR的患者平均6年保持稳定,不需再治疗。
(2)对B细胞性慢性淋巴细胞白细胞病地完全缓解率仅为4%,部分缓解率为15%~27%。
(3)对幼淋巴细胞白细胞病的完全缓解率为10%,部分缓解率为58%。
(4)对复发性急性淋巴母细胞白血病儿童患者的完全缓解率可达10%。
(5)对皮肤T细胞淋巴瘤(CTCL)的总缓解率(CR+PR)为17%~40%;对其他非霍奇鑫淋巴瘤的CR为0%~20%,PR为10%~30%。
用法用量:静脉注射:每日5mg/m2,连用3日,每4周重复;或每次4mg/m2,每2周1次。
不良反应:
(1)骨髓抑制:为剂量限制性毒性,主要为白细胞与淋巴细胞减少,16%~25%是严重缺乏。
(2)胃肠道反应:恶心,呕吐(36%~87%)。
(3)肾脏毒性:可出现高尿酸血症。
(4)中枢神经毒性:疲倦、头痛,不适,抑郁,甚至昏睡、昏迷。
(5)其他反应:发生机会20%~58%,结膜炎,肺毒性,肝功能损害,关节痛,肌痛,皮疹,带状疱疹等。禁忌证:哺乳妇女须慎用。
注意事项:
(1)本品与干扰素无交叉耐药性,但两者同用是否能提高疗效尚无定论。
(2)使用本品期间应定期检查血像,若发生严重毒副作用,则应停药并对症处理。
(3)本品避免与氟达拉滨同用,剂量应在推荐的范围内。
贮藏:室温凉暗处保存。
英文版说明
Injection)Nipent®Class: ChemotherapyGeneric Name: Pentostatin (pen-toe-STAT-in)Trade Name: Nipent®How is this drug used? Pentostatin is FDA approved for the treatment of hairy cell leukemia. It is important for patients to remember that physicians have the ability to prescribe medication for conditions other than those for which the drug has been approved by the FDA. Patients who have received a prescription of this drug for a condition other than which it is approved may wish to discuss this issue with their physician.What is the mechanism of action?Pentostatin belongs to a class of agents referred to as antimetabolites. Antimetabolites produce their anti-cancer effects by inhibiting the ability of a cell to produce or repair DNA, thereby making the cell unable to replicate or repair itself and ultimately causing cellular death.How is pentostatin given (administered)?Pentostatin is administered into a vein (intravenous), and the dose depends on several factors, including the condition being treated, the size of the patient, the particular treatment regimen being used, and the overall health of the patient.How are patients monitored? Patients will usually have scheduled meetings with their healthcare provider while they are being treated with pentostatin. Typically, blood will be drawn to check levels of blood cells and to monitor functions of some organ systems, such as the kidneys or liver. Patients may also undergo physical examinations, scans or other measures to assess side effects and response to therapy. Kidney function may be monitored prior to and during treatment with pentostatin.What are the common (occur in 30% or more of patients) side effects of treatment with pentostatin?• Nausea and vomiting• Fever, chills• Rash• Fatigue• Low white blood cell levels – increases risk of infection• Low red blood cell levels – increases risk of anemia• Low platelet levels – increases risk of bleeding• Kidney failure• Infection (may be severe, life threatening)What are the less common (occur in 10% to 29% of patients) side effects of treatment with pentostatin?• Headache• Diarrhea• Lack of appetite• Cough, chills, runny nose, sore throat• Abdominal pain?• Mouth sores• Difficulty breathing, fluid in lungs• Muscle pain• Skin abnormalities, dry skin, itching• Sweating?• Changes in liver function tests, liver damage• Hair lossThis is not a complete list of side effects. Some patients may experience other side effects that are not listed here. Patients may wish to discuss with their physician the other less common side effects of this drug, some of which may be serious.Some side effects may require medical attention. Other side effects do not require medical attention and may go away during treatment. Patients should check with their physician about any side effects that continue or are bothersome.What can patients do to help alleviate or prevent discomfort and side effects?• Pay careful attention to the physician's instructions and inform the physician of any side effects.• Maintain adequate rest and nutrition.• Wear sunscreen and protective clothing and try to minimize sun exposure.• Drink plenty of fluids. (Patients should ask their physician about the amount of liquid to consume during a day.)• If possible, the patient should avoid large crowds or persons who are sick or not feeling well, as this drug may leave some patients susceptible to infection.• Wash hands often to reduce the risk of infection.• Avoid activities that may cause injury or bruising.• Use a soft toothbrush and an electric razor to prevent cuts on the mouth or skin.• Eat small meals frequently to help alleviate nausea.• For mouth sores, patients should rinse their mouth three times a day with a salt and soda solution (8 ounces of water mixed with ½ to 1 tsp baking soda and/or ½ to 1 tsp salt) and brush their teeth with a soft toothbrush to help prevent the development of mouth sores.Are there any special precautions patients should be aware of before starting treatment?• Patients should inform their physician if they are pregnant, breastfeeding or planning a family in the near future. This drug may cause birth defects. It is important to use some kind of birth control while undergoing treatment. Also, patients may want to talk to their physician if they are considering having children in the future, since some drugs may cause fertility problems.• It is important that patients inform their physician of any pre-existing conditions (chicken pox, heart disease, kidney disease, liver disease, lung disease, etc.) as they may worsen with this drug.• Patients should inform their physician of any other medication they are taking (whether prescription or over-the-counter, including vitamins, herbs, etc.) as they may interfere with treatment.• Patients should check with their physician before starting any new drug or nutritional supplement.• Patients should inform their physician of any known drug or food allergies or any reactions to medications they have experienced in the past.When should patients notify their physician?• Difficulty breathing• Chest pain, change in heart rate or rhythm• Swelling of the feet or ankles• Sudden weight gain• Severe abdominal pain• Yellowing of skin or eyes• Flu or cold-like symptoms – fever, sore throat, cough, chills, runny nose• Signs of infection – redness, swelling, pus, tenderness• Unexplained or excessive bleeding (nosebleeds, bruising, black tarry stools, blood in the urine, etc.)• Persistent or severe fatigue• Persistant or severe nausea or vomiting• Persistant or severe diarrhea• Severe weight loss• Mouth sores• Change in mental status (dizziness, drowsiness, confusion, nervousness, depression, insomnia)• Severe headache• Change in vision, eye irritation• Skin rash, hives, itching• Decreased frequency or amount or urinationWhat is a package insert?A package insert is required by the FDA and contains a summary of the essential scientific information needed for the safe and effective use of the drug for healthcare providers and consumers. A package insert typically includes information regarding specific indications, administration schedules, dosing, side effects, contraindications, results from some clinical trials, chemical structure, pharmacokinetics and metabolism of the specific drug. By carefully reviewing the package insert, you will get the most complete and current information about how to safely use this drug. If you do not have the package insert for the drug you are using, your pharmacist or physician may be able to provide you with a copy.Copyright © 2010 CancerConnect Last updated 07/10.Important Limitations of UseThe information provided above on the drug you have selected is provided for your information only and is not a substitute for consultation with an appropriate medical doctor. We are providing this information solely as a courtesy and, as such, it is in no way a recommendation as to the safety, efficacy or appropriateness of any particular drug, regimen, dosing schedule for any particular cancer, condition or patient nor is it in any way to be considered medical advice. Patients should discuss the appropriateness of a particular drug or chemotherapy regimen with their physician.As with any printed reference, the use of particular drugs, regimens and drug dosages may become out-of-date over time, since new information may have been published and become generally accepted after the latest update to this printed information. Please keep in mind that health care professionals are fully responsible for practicing within current standards, avoiding use of outdated regimens, employing good clinical judgment in selecting drugs and/or regimens, in calculating doses for individual patients, and verifying all dosage calculations.