依鲁替尼胶囊Ibrutinib(Imbruvica 140mg capsules)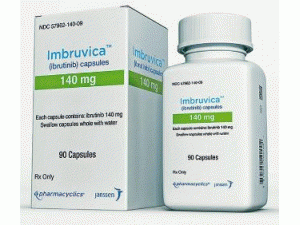 产地国家:美国
处方药:是
所属类别: 140毫克/胶囊 90胶囊/盒
包装规格: 140毫克/胶囊 90胶囊/盒
计价单位:盒
生产厂家英文名:Pharmacyclics/Janssen Biotech Inc.
原产地英文商品名:IMBRUVICA 140mg/cap 90caps/box
原产地英文药品名:Ibrutinib
中文参考商品译名:IMBRUVICA 140毫克/胶囊 90胶囊/盒
中文参考药品译名:依鲁替尼
简介
部份中文依鲁替尼(Imbruvica)处方资料(仅供参考)
商品名:Imbruvica
通用名:ibrutinib
中文名:依鲁替尼
活性成分:依鲁替尼
审批分类:突破性药物+优先审评+加速批准+孤儿药
作用机理:依鲁替尼是一种小分子BTK抑制剂,能够与BTK活性中心的半胱氨酸残基共价结合,从而抑制其活性。BTK全称Bruton's tyrosine kinase,在BCR信号通路、细胞因子受体信号通路中传递信号,介导B细胞的迁移、趋化、粘附。临床前研究证明,依鲁替尼能够抑制恶性B细胞的增殖、生存。临床试验:111例既往至少接受过一项治疗的患者经依鲁替尼治疗后,总应答率为65.8%(完全应答17.1%+部分应答48.6%),中位持续应答时间为17.5个月。
适应症:套细胞淋巴瘤。
剂型规格:本品为胶囊剂,规格为140mg。推荐剂量为560mg/天
不良反应:大出血、感染、骨髓抑制、肾毒性、第二原发性恶性肿瘤、胚胎胎儿毒性。
药企:Pharmacyclics/Janssen Biotech Inc.
补充说明:依鲁替尼是经FDA突破性药物通道批准的第二个新药(第一个为obinutuzumab),同时还享有FDA的另外两项buff,以及上市后7年的行政保护。由于多个加速buff的加成,该药的临床试验显得很简陋,入组患者只有111例,临床终点是应答率而不是生存期。
套细胞淋巴瘤是一种罕见非霍奇金淋巴瘤,之前FDA分别于2006年、2013年批准硼替佐米、来那度胺治疗该症。依鲁替尼是Johnson & Johnson从Pharmacyclics高价买入的重点品种,除了治疗套细胞淋巴瘤外,还用于慢性淋巴细胞白血病、小淋巴细胞淋巴瘤,eva luatePharma预测该药2018年销售额为14.01亿美元。
英文版说明书
IMBRUVICA™We are proud to introduce our first product, IMBRUVICA™. Please visit www.IMBRUVICA.com for more information.INDICATION – IMBRUVICA™ is indicated for the treatment of patients with mantle cell lymphoma (MCL) who have received at least one prior therapy. This indication is based on overall response rate. An improvement in survival or disease-related symptoms has not been established.IMPORTANT SAFETY INFORMATIONWARNINGS AND PRECAUTIONSHemorrhage – Five percent (5%) of patients with MCL had Grade 3 or higher bleeding events (subdural hematoma, gastrointestinal bleeding, and hematuria). Bleeding events including bruising of any grade occurred in 48% of patients with MCL treated with 560 mg daily. The mechanism for the bleeding events is not well understood. Consider the benefit-risk of ibrutinib in patients requiring antiplatelet or anticoagulant therapies and the benefit-risk of withholding ibrutinib for at least 3 to 7 days pre and post-surgery depending upon the type of surgery and the risk of bleeding.Infections – Fatal and non-fatal infections have occurred. At least 25% of patients with MCL had infections ≥ Grade 3, according to NCI Common Terminology Criteria for Adverse Events (CTCAE). Monitor patients for fever and infections and eva luate promptly.Myelosuppression – Treatment-emergent Grade 3 or 4 cytopenias were reported in 41% of patients. These included neutropenia (29%), thrombocytopenia (17%) and anemia (9%). Monitor complete blood counts monthly.Renal Toxicity – Fatal and serious cases of renal failure have occurred. Treatment-emergent increases in creatinine levels up to 1.5 times the upper limit of normal occurred in 67% of patients and from 1.5 to 3 times the upper limit of normal in 9% of patients. Periodically monitor creatinine levels. Maintain hydration.Second Primary Malignancies – Other malignancies (5%) have occurred in patients with MCL who have been treated with IMBRUVICA™, including skin cancers (4%), and other carcinomas (1%).Embryo-Fetal Toxicity – Based on findings in animals, IMBRUVICA™ can cause fetal harm when administered to a pregnant woman. Advise women to avoid becoming pregnant while taking IMBRUVICA™. If this drug is used during pregnancy or if the patient becomes pregnant while taking this drug, the patient should be apprised of the potential hazard to a fetus.Adverse Reactions – The most commonly occurring adverse reactions (≥ 20%) in the clinical trial were thrombocytopenia*, diarrhea (51%), neutropenia*, anemia*, fatigue (41%), musculoskeletal pain(37%), peripheral edema(35%), upper respiratory tract infection(34%), nausea (31%), bruising (30%), dyspnea (27%), constipation(25%), rash (25%), abdominal pain (24%), vomiting( 23%) and decreased appetite (21%).Treatment-emergent decreases (all grades) of platelets (57%), neutrophils (47%) and hemoglobin (41%) were based on laboratory measurements and adverse reactions.The most common Grade 3 or 4 non-hematological adverse reactions (≥ 5%) were: pneumonia (7%), abdominal pain (5%), atrial fibrillation, diarrhea (5%), fatigue (5%), and skin infections (5%). Treatment-emergent Grade 3 or 4 cytopenias were reported in 41% of patients. Ten patients (9%) discontinued treatment due to adverse reactions in the trial (N=111).The most frequent adverse reaction leading to treatment discontinuation was subdural hematoma (1.8%). Adverse reactions leading to dose reduction occurred in 14% of patients.Drug Interactions:CYP3A Inhibitors – Avoid concomitant administration with strong or moderate inhibitors of CYP3A . If a moderate CYP3A inhibitor must be used, reduce the IMBRUVICA™ dose.CYP3A Inducers – Avoid co-administration with strong CYP3A inducers.Special Populations – Hepatic Impairment – Avoid use in patients with baseline hepatic impairment.Report side effects to the FDA at +1-800-FDA-1088 or www.FDA.gov/medwatch.Report side effects to Pharmacyclics , Option 3.