复方胰岛素/门冬胰岛素[重组]注射剂(RYZODEG FlexTouch)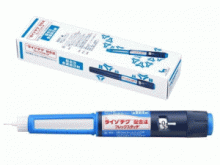 产地国家:日本
处 方 药:是
所属类别:100单位/毫升 3毫升/注射笔 2支/盒
包装规格:100单位/毫升 3毫升/注射笔 2支/盒
计价单位:盒
生产厂家中文参考译名:诺和诺德
生产厂家英文名:Novo Nordisk
原产地英文商品名:RYZODEG FlexTouch(ライゾデグ配合注 フレックスタッチ)100IU/ml 3ml/Penfil 5unit (cold-storage)
原产地英文药品名:Insulin Degludec/Insulin Aspart(Genetical Recombination)
中文参考商品译名:RYZODEG FlexTouch(ライゾデグ配合注 フレックスタッチ)100单位/毫升 3毫升/注射笔 2支(冷藏)
中文参考药品译名:胰岛素/门冬胰岛素[基因重组]
简介
英文药名:RYZODEG FlexTouch(Insulin Degludec/Insulin Aspart[Genetical Recombination])
中文药名:复方胰岛素/门冬胰岛素[重组]注射器
生产厂家:诺和诺德
批准日期:2015年11月
商標名
RYZODEG FlexTouch
一般名
インスリン デグルデク(遺伝子組換え)[命名法:JAN]
Insulin Degludec(Genetical Recombination)[命名法:JAN]
分子式
C274H411N65O81S6
分子量
6,103.97
性状
白色或类白色粉末。
一般名
インスリン アスパルト(遺伝子組換え)[命名法:JAN]
Insulin Aspart(Genetical Recombination)[命名法:JAN]
分子式
C256H381N65O79S6
分子量
5,825.54
性状
白色粉末。
药效药理
本剂含有胰岛素Degurudeku和长效的超速效胰岛素的门冬胰岛素制剂。这种药物进行了优化,Jihekisama胰岛素Degurudeku是在配方中可溶性稳定,门冬胰岛素是作为一个稳定的六聚体可溶。
门冬胰岛素六聚体,立即离解成在给药后皮下组织的单体,它被迅速吸收到毛细血管。
胰岛素大邱路德彩票六聚体,分子大小,这是不被毛细血管给药后吸收到形成在皮下的可溶性多聚体。多聚体仍然暂时皮下组织,有胰岛素德大师癸单体选自解离,以缓慢而从持续皮下组织过渡到循环血液。此外,但可以在持续减少的贡献度小,即通过脂肪酸的一部分结合到白蛋白)。其结果是,这种药物(门冬胰岛素)的丸馏分和基础级分(胰岛素Degurudeku)的作用是明确区分。
这种药物的主要药理作用是葡萄糖代谢的调节。含有这种药物的胰岛素制剂结合于胰岛素受体,表达特定动作。结合到胰岛素受体胰岛素促进骨骼肌和脂肪细胞摄取糖和降低通过抑制葡萄糖产量在肝脏的血糖水平。此外,为了抑制脂肪分解和蛋白质分解在脂肪细胞中,以促进蛋白质的合成。
适应病症
用于糖尿病,胰岛素治疗
用法用量
本剂超速效胰岛素(门冬胰岛素)和长效胰岛素(胰岛素Degurudeku)3:7,其是含有摩尔比的可溶性胰岛素制剂。
通常,成人最初皮下注射一次或两次,每天一次4至20个单元。当每日一次,它是在主餐,一个恒定的日常前立即服用。当每日给药两次,之前,只是在晚餐前给予早餐。剂量适当增加或根据症状和实验室研究结果降低,维持剂量通常为一天4-80单位。然而,可以有超过必要的上述剂量使用。
包装规格
1管:3毫升(100单位/毫升)×2支
制造厂商
诺和诺德
英文版说明书
"Rhizodeg blend note" released The first insulin made with 'Tresyba' and 'Novolapid'
Novo Nordisk Pharma launched a dissolved insulin formulation "Rhizodeg formulation Note Flex Touch" (generic name: insulin degludek / insulin aspart), which contains two different insulin analogues in one pen on December 1.
Rhizodeg Blend Note "is a dissolved insulin preparation containing two different insulin analogues in one pen for the first time in the world. "Tresyva Note" (generic name: insulin degludec) that supplements basal secretion to replenish basal secretion for more than 24 hours and super fast-acting insulin "Novolapid Note" (generic name: insulin aspart) to supplement supplementary secretion after meal , In a ratio of 7 to 3. It is an active ingredient of Novolapid Note and shows a quick hypoglycemic effect at meal time, and it shows a flat and stable hypoglycemic effect over a long period of time with active ingredients of Tresyver Note.
Many of type 2 diabetes are progressive, many patients need "enhanced insulin therapy" to inject a fast acting insulin preparation in addition to a long-acting insulin preparation. In order to control blood glucose, in addition to a long-acting insulin preparation, in addition to a fast-acting insulin preparation, the number of injections is increased and injections several times a day are necessary, but in some patients these frequent injections may be difficult .
Even if strengthening of treatment is necessary, if the number of injections can not be increased, the goal of blood glucose control can not be achieved. Over 50% of patients with type 2 diabetes treated with a long-acting insulin preparation do not reach the target HbA1c in the previous studies, and tasks for which reinforced insulin therapy has not been started at the appropriate time It is shown.
Rhizodeg combination note "is started treatment from once a day injection, treatment is required for patients who need to compensate both basic secretion and supplementary secretion by insulin therapy, or treated with an intermediate type · sustained insulin preparation, and added secretion In patients who need to supplement, he says he can expect improvement with a simpler treatment.
Improve blood sugar control without increasing the frequency of hypoglycemia
Unlike traditional mixed-type insulin preparations, color-clear clearly dissolved insulin preparation does not require suspension operation prior to injection.
In the formulation, Treceiver's Note is a soluble and stable diehexamer, Novolapid Note is optimized to be present as a soluble and stable hexamer.
Treceiver's Note "temporarily stayed as a soluble and stable multi-hexamer in subcutaneous tissue after subcutaneous injection, and the monomer gradually dissociates from the multihexamer, so it gradually and continuously transfers to the blood from the site of subcutaneous administration , Long pharmacokinetics and pharmacodynamic profiles.
In addition, Novolapid Note "is diluted with inter-tissue fluid after subcutaneous injection, rapidly dissociates from hexamer to dimer and monomer, rapidly transfers to the blood, and expresses hypoglycemic effect in a short time.
Tresyva Note and "Novolapid Note" do not interfere with each other, and Rhizodeg Blend Notes combines the characteristics of a Novorapid Note showing a clear peak and a Traciebote note showing a flat and stable action.
Treat to Target test "is a test comparing new insulin preparation group and conventional control drug group, aiming at similar blood glucose control treatment. Utility of new drugs was eva luated based on items such as hypoglycemic frequency and severity after verifying noninferiority (HbA1c) to control drugs.
By conducting a clinical trial (Treat to Target test) for type 2 diabetes, injections are made just before the main meal of the day, which has a high intake of calories and carbohydrates once a day, Noninferiority (HbA1c) to effective insulin was confirmed and it was confirmed that the frequency of occurrence of hypoglycemia or nocturnal hypoglycemia was not increased.
In addition, noninferiority (HbA1c) to biphasic insulin aspart as a control drug was confirmed without increasing the incidence of hypoglycemia and nocturnal hypoglycemia by injection just before morning and evening meals twice a day.
Rhizodeg combination note has been released in six countries including Japan until now (as of November 13). The company said it will become a new option to realize a simple treatment enhancement, not to increase the frequency of occurrence of hypoglycemia, and to achieve better blood sugar control.
"Suppression of hypoglycemia risk" and "convenience of times and timing" are required for insulin therapy
Kohei Kabuto · Professor Kawasaki Medical University's internal science professor gave a lecture entitled "Clinical Benefit Brought by a New Insulin Formulation" in Tokyo. About "Rheisodeg blended Note Flex Touch" which began selling on December 1, "We will reduce the risk of insulin therapy (hypoglycemia, weight gain, restriction of daily life etc), increase the benefit (improvement of blood sugar control) We can expect it as a formulation to be taken. "
In the large-scale research "DCCT" conducted in the United States and Canada in the 1980s and 1990s, type 1 diabetic patients undertook reinforced insulin therapy from early onset to improve the risk of vascular complications such as retinopathy by improvement of HbA1c Has been shown to decrease. However, at the price of this, the patient had a fear of hypoglycemia and restrictions on everyday life (inconvenience, frequent pain, etc., due to frequent injection) over the lifetime.
In large-scale intervention studies "ACCORD" and "VADT" aimed at suppressing cardiovascular complications in type 2 diabetes, it was shown that it is important to reduce risks such as severe hypoglycemia and weight gain with insulin therapy It was. "Setting management targets for each patient" in order to attain the management target of blood sugar control "Achieving high-quality glycemic control aimed at improving the quantity and quality of HbA1c" "Suppressing disease progression by early intervention" is required It was suggested.
As a problem of conventional insulin therapy, Mr. Kaori, ▽ the effect is not constant (there are variations in the daily effects within the individual), ▽ low blood glucose with strict blood sugar control, ▽ convenience (subcutaneous injection, Poor adherence resulting from badness of daily life etc), ▽ Patients are required to have a certain level of understanding, and introduction has limitations.
As a result, introduction of insulin therapy can not be started at an appropriate time, making it difficult to achieve and maintain the therapeutic goal. For future insulin therapy, it is required that "attention is paid so that patients can easily continue treatment, such as suppressing hypoglycemic risk" and "the number and timing of injections."
Kaori pointed out that "Rhizodeg combination note" features ▽ basal insulin and supplemental insulin replenishment, ▽ the role of basic replenishment and supplementary replacement is clear, ▽ long duration, less fluctuation within individuals – Pointed out.
Introducing the results of Phase 3 clinical trial of Rhizodeg combination note ▽ The hypoglycemia associated with strict blood glucose control (especially at night) decreases, ▽ the number of injections is once a day (injection prior to the main meal ) And explained that there are many benefits such as injection timing selection for each patient.
我们希望人人都能吃的起药,看得起病! 我们希望让患者有权利选择自己经济能力范围内的药! 我们希望给国人提供一个能了解药品常识的平台,不再一无所知! 我们经过一年多时间反复深入的分析、研究,咨询了很多医学专家,药学专家,对比了近2000种重大疾病用药,总结了数百万字的药品知识。 我们建立医生China,是全国首个药品知识型公益社区。 www.yschn.com-医生China
药品价格查询,专业药品查询网站,药品说明书查询,药品比价
»
复方胰岛素/门冬胰岛素[重组]注射剂(RYZODEG FlexTouch)