沙格雷酯片(ANPLAG Tablets 100mg/Sarpogrelate )说明书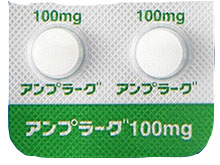 产地国家:日本
处 方 药:是
所属类别:100毫克/片 100片/盒
包装规格:100毫克/片 100片/盒
计价单位:盒
生产厂家中文参考译名:田辺三菱制药
生产厂家英文名:Mitsubishi Tanabe Pharma Corporation
原产地英文商品名:Anplag(アンプラーグ錠)100mg/Tablets 100Tablets/box
原产地英文药品名:Sarpogrelate Hydrochloride
中文参考商品译名:ANPLAG(アンプラーグ錠)100毫克/片 100片/盒
中文参考药品译名:沙格雷酯
简介:
部份中文沙格雷酯处方资料(仅供参考)
英文药名:Sarpogrelate Hydrochloride
商品名称:ANPLAG
中文药名:沙格雷酯片
剂 型:片,颗粒剂
生产厂家:田辺三菱制药
アンプラーグ錠50mg/アンプラーグ錠100mg/アンプラーグ細粒10%
药物分类名称:5-HT2阻断剂
批准日期:1993年8月
商標名:ANPLAG Tablets;ANPLAG Fine granules
一般名:サルポグレラート塩酸塩,Sarpogrelate Hydrochloride(JAN)
化学名:(2RS)-1-Dimethylamino-3-{2-[2-(3-methoxyphenyl)ethyl] phenoxy}propan-2-yl hydrogen succinate monohydrochloride
構造式:
分子式:C24H31NO6・HCl
分子量:465.97
性状:
它是一种白色结晶粉末。
难以溶于水或乙醇(99.5)。
溶于0.01 mol/L盐酸试剂溶液。
水溶液(1→100)不显示旋光度。
观察到晶体多态性
药用药理学:
1.作用机制
该药剂对血小板和血管平滑肌中的5-HT2(血清素)受体具有特异性拮抗作用。结果,显示了抗血小板作用和血管收缩抑制作用。
2.血小板聚集抑制作用
(1)在健康成人和慢性动脉闭塞患者中,通过血清素和胶原同时加入(离体试验)抑制血小板聚集。
(2)在试验的体外抑制由血小板聚集和ADP或肾上腺素血小板的二次聚集由胶原。
虽然胶原血小板聚集是通过提高血清素可抑制这种增强血小板聚集。
3.抗血栓作用
(1)抑制病变的外周动脉闭塞性疾病模型的进展(大鼠外周动脉闭塞由于月桂酸注射)。
(2)动脉血栓形成模型(由小鼠动脉血栓形成,聚乙烯管取代的大鼠动脉血栓形成的血管内皮损伤)抑制血栓的形成。
4.血管收缩抑制作用
在使用大鼠血管平滑肌的体外研究中,通过血清素抑制血管平滑肌的收缩。
血管平滑肌与血小板聚集相关,但抑制这种收缩。
5.微循环改善作用
提高经皮组织氧分压及的慢性动脉闭塞患者皮肤表面的温度。
改善侧支循环障碍模型(大鼠)的循环障碍。
适应症:改善伴有慢性动脉闭塞的缺血症状,例如溃疡,疼痛和清凉感。
用法与用量:饭后每日三次,每日一次,每次100毫克。另外,应根据您的年龄和症状增加或减少。
临床结果:194例慢性动脉闭塞的临床试验(包括双盲对照研究)观察到缺血症状如溃疡,疼痛和伴有外周循环衰竭的清凉感的改善。
包装:片剂
50毫克:100片(10片×10)500片(瓶装)
100毫克:100片(10片×10)500片(10片×50)630片(21片×30)500片(瓶装)
细粒10%:1克×90包装
制造供应商:田辺三菱製薬株式会社
注:以上中文资料不够完整,使用者以原处方资料为准。
英文说明书:
Anplag was synthesized by Mitsubishi Chemical Co., Ltd. (now Tanabe Mitsubishi Pharmaceutical Co., Ltd.) in 1981. After clinical trials, it has become a therapeutic drug for chronic arterial occlusive disease and improved vascular microcirculation. Approved in 1993, it is a 5-HT2 receptor antagonist.
5-HT (5-HT) has a variety of physiological activities. In the blood circulation system, when the vascular endothelium is damaged, platelets adhere, accumulate in the damaged part and release serotonin, serotonin through platelets and vascular smooth muscle. The 5-HT2 receptor mediated by the cells further enhances platelet aggregation in the damaged area and promotes vasoconstriction at the damaged site, while serotonin promotes vascular smooth muscle hyperplasia and causes peripheral circulatory failure. Particularly in patients with atherosclerosis, platelet and smooth muscle cells of such patients are known to be hyperactive to serotonin.
Therefore, from the role of 5-HT in disease progression, we have reason to expect that 5-HT2 receptor antagonists can contribute to the treatment of peripheral circulatory disorders through a completely different mechanism from previous drugs. Anbula was originally developed as a selective 5-HT2 receptor antagonist, which inhibits platelet aggregation, especially platelet aggregation caused by serotonin release. Anbu Leke also inhibits vasoconstriction. It has a unique effect on thromboembolic diseases such as chronic arterial occlusive disease.
Clinically proven, An Bu Leke has a good effect on the ischemic symptoms such as ulcer, pain and cold sensation caused by chronic arterial occlusive disease.
In 2007, the consensus TASCII for the treatment of peripheral vascular disease (PAD) was reached by 16 associations such as the United States, the European Vascular Association, and the Cardiovascular Association, as a guide for the diagnosis and treatment of peripheral vascular diseases. Among the therapeutic drugs recommended in this guideline is Ambrex (salcolide hydrochloride).
The incidence of side effects of Anbu Leke is only 2.23%, mostly side effects such as nausea and vomiting. It is a product with high safety in anti-platelet and micro-circulation drugs, and has certain targeting effect on diseased blood vessels. .
In recent years, experts in cardiovascular and peripheral blood vessels at home and abroad have consistently treated peripheral vascular disease (PAD) as a risk factor for cardiovascular and cerebrovascular diseases. PAD indicates an increased risk of cardiovascular and cerebrovascular events. However, the diagnosis and treatment of peripheral vascular diseases in China is not enough, and many patients with PAD are missed. Professor Hu Dayi, a well-known expert in heart disease, has published an article calling for attention to peripheral vascular disease. His article entitled "Sick on the Leg, Risky in Heart" elaborates on the risk of peripheral vascular disease.
People with the following characteristics should be screened for PAD:
1.50-69 years old, with a history of smoking or diabetes;
2.70 years old or older;
3. There are fatigue symptoms of lower limbs or decreased body function;
4. Abnormalities in the lower extremity vascular examination;
5. eva luation of cardiovascular risk. A simple index (ABI) check can simply screen out the PAD. The sputum index is the ratio between the iliac arterial pressure and the radial artery pressure measured by measuring the systolic blood pressure of the posterior tibial or anterior tibial artery and the iliac artery. When the normal person is at rest, the index ranges from 0.9 to 1.3. The above population with index = <0.9 can be diagnosed as PAD, and treatment intervention should be promptly treated. The above-mentioned population with a index of 0.9-1.4 should have an ABI treadmill if combined with symptoms of claudication. The ABI decline after exercise can be diagnosed as PAD, which should be paid attention to and timely treatment intervention. The above-mentioned population with an index greater than 1.4 should go to the vascular monitoring room for TBI or VWF examination, Duplex image diagnosis, PVR and vascular ultrasound examination. The abnormal result can be diagnosed as PAD, and the result can exclude PAD.
The survey shows that with the improvement of people's living standards, the number of patients with PAD increases year by year, but the diagnostic rate of major hospitals is very low, and the rate of missed diagnosis is as high as 90%. If early diagnosis can be made, early intervention can significantly reduce amputation rate and reduce heart rate. The incidence of cerebrovascular events.
Patients with a high degree of suspicion of PAD can also be examined by touching the pulsation of the dorsal artery. If the pulsation weakens or disappears, they should go to the hospital in time.
In recent years, many connective tissue diseases and rheumatic diseases have been combined with the deterioration of limb microcirculation, which is characterized by cold (toe), white skin, and even skin necrosis. It is medically known as Raynaud's phenomenon. Patients are often a little bit irritated by cold stimuli and emotions, which is very painful. There are currently no effective medications to improve the symptoms. By blocking the 5-HT2 receptor, Anbulec inhibits microvascular contraction (microvessels are very sensitive to 5-HT), while improving red blood cell deformability, increasing red blood cell filtration rate, inhibiting platelet aggregation, improving peripheral circulation, and increasing Peripheral blood flow and oxygen partial pressure effectively improve the patient's cold, numbness, pain and gangrene. Bring the gospel to patients with Raynaud's disease.
At the same time, a variety of studies have found that Anbu Leke has a significant effect on improving glomerular microcirculation in diabetic patients. It has been reported in the literature that the urinary albumin excretion rate (UAER) in the Anbulek group is significantly reduced, which is early Prevention of diabetic nephropathy offers more options.
In addition, in recent years, there have been reports in the literature that Anbu Leke also plays a certain role in the treatment of pulmonary hypertension. The role of 5-hydroxytryptamine (5-HT) in pulmonary blood vessels is:
1. Promote the proliferation of pulmonary artery smooth muscle (SMC);
2. Contraction of the pulmonary artery;
3. Promote platelet aggregation, resulting in small thrombosis in situ. The three structural and functional changes in the pulmonary arteries are an important vascular remodeling process during the formation and progression of pulmonary hypertension (PAH).
The serotonin 2A receptor antagonist, Sarpogrelate, has been shown to inhibit monocrotaline-induced PAH development and prolong life, which is associated with anti-inflammatory and anti-proliferative effects of lung tissue and improved endothelial function of pulmonary vessels. .
With the development of medicine and the successive introduction of various experimental data, it is believed that Anbull will be more and more widely applied to various diseases of the vascular system. Is a product worth looking forward to